A PRACTICAL and informative booklet for cancer patients titled ''My Journal'' by Dr Christina Ng was launched by Universiti Malay Medical Centre (UMMC) director Dr Ikram Shah Ismail recently.
The richly illustrated booklet is about a personal journal, providing pertinent information as well as practical tips in handling cancer.
Dr Ng, who is a consultant medical oncologist at the Department of Medicine, UMMC, developed the booklet to help alleviate fears and any misconceptions cancer patients might have on treatment.
"It took about a year to put together the whole book, which will help the patients be informed, educated and have the ability to anticipate decision making pertaining to cancer.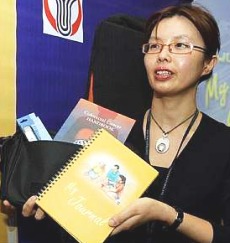 For cancer patients: Dr Ng with a copy of 'My Journal' and the Colorectal kit.
"The idea for the journal came about in view of the rise in incidences of cancer in Malaysia.
"The response from patients has been good. They have given feedback on more that could be added in the book and we are looking at a second edition already."
She added that the book would be also printed in Malay, Tamil and Chinese and distributed to other government-based nationwide.
Budi Kartini, 47 who has oesophagus cancer said the booklet was a useful diary to record her medicine consumption.
"It helps me keep track of what I am doing daily. I feel that people shouldn't be afraid of cancer but understand the disease, which this booklet helps to do.
"You have to be brave to go through all this in life and I am glad that I have cancer at this age and not when younger, " she said.
Since April, 300 booklets have been given out to cancer patients undergoing treatment at UMMC. About 100 booklets have been donated to the Department of Oncology at Hospital Kuala Lumpur in June.
The journal is divided into nine parts covering topics like medical history, test, treatments, side effects and resources. Patients can also track their progress with treatment by recording each phase.
At the launch, a Colorectal kit developed by UMMC with a support from a pharmaceutical company was also introduced. The kit contains a thermometer, copy of My Journal, specially designed pouch to carry ambulatory pump, batteries for pump operation, booklet on Colorectal Cancer by Dr Ng, a notebook and pen.
It was distributed in August by doctors and nurses for patients with colon cancer.