Group spreads useful info to low-income community too
In keeping with their mission of saving lives, preventing cancer and eliminating suffering among the poor in Malaysia, EMPOWERED the Cancer Advocacy Society of Malaysia, in collaboration with the Social Welfare Department and numerous other like-minded organ­isations conducted a cancer aware­ness programme for over 350 low-income residents of PPR Sri Pantai, Pantai Dalam and Sentul. Themed 'Empowered to Fight Cancer', the programme was con­ceptualised in close working part­nership with the local community, providing access to information, screening and support on cancer through educational lectures and interactive workshops.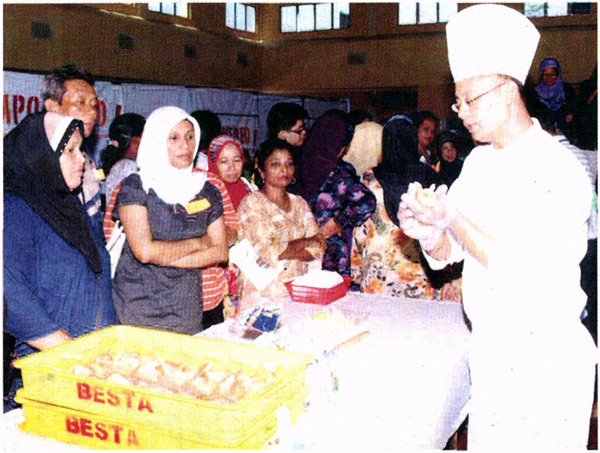 Attentive: A chef teaching participants healthy cooking methods
"We applaud EMPOWERED's efforts among the poor, which is one of our department's target groups," said Kuala Lumpur Social Welfare Department (J KM) director Noorma h Abdul Rauf, who officiated at the event. "Workshops such as this usually require the public to pay for entrance or are conducted at locations that are not convenient for most. This hinders certain groups of people from getting important health infor­mation," said PPRSri Pantai Residents Association of president Adlan Lobe. "We are extremely grateful to EMPOWERED and their collaborating partners for bringing this awareness programme straight into our homes for the benefit or our residents," he added.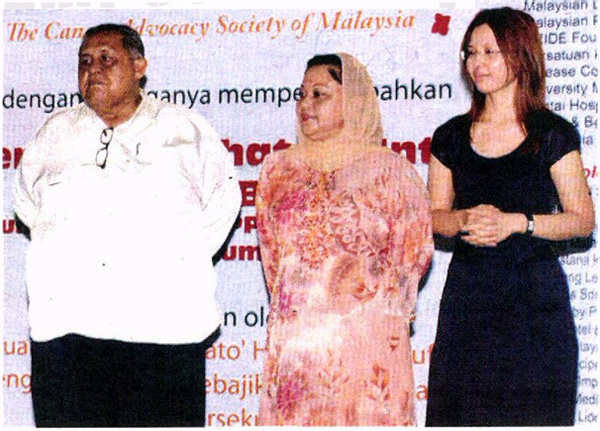 All for a good cause: (From left) Adlan, Noormah and Dr Ng at the event
Cancer is the second most danger­ous disease in Malaysia after heart disease. In 2006, breast cancer was the most common cancer affecting females regardless of ethnic back­ground- Lung cancer, in the mean­time, is the second most common cancer among males. Thus, the 'Empowered to Fight Cancer' activities were focused around raising awareness on lung and breast cancer - the two cancers with the highest mortality rates. Apart from disease awareness, the 'Empowered to Fight Cancer' work­shop also aims to bring closeness and unity among family members. "The family unit is the strongest support system to any member in the family and this is especially true when a family member goes through a challenging period which can come about when afflicted with serious illness," said EMPOWERED founder and president Dr Christina Ng.
The day's activities were divided into two sessions-Following the official opening. Educational lectures were given by healthcare professionals on aware­ness, diagnosis and treatment for both lung and breast cancer. These lectures were interspersed with quizzes and lucky draws with attractive prizes for the participants. There was also a sharing session with a breast cancer survivor who spoke about her journey with can­cer, inspiring the community that a fulfilling life was possible despite being diagnosed with the disease.
The second half of the programme saw two concurrent streams of workshops on healthy lifestyle and breast cancer in which participants were given a choice to decide which to attend. In the Eat Healthy & Stay Active stream, participants were taken through demonstrations on healthy cooking and physical exercises. They also had the opportunity to consult physiotherapists on their ideal Body Mass Index (BM1) and appropriate exercises. For the women, there was a Breast Cancer workshop which incorporat­ed breast self examination tutorials, clinical breast examinations by breast consultants as well as an exhi­bition and a question-and-answer session for them to interact with breast care nurses and cancer survi­vors on a one-on-one basis.
"Many women are being diag­nosed with breast cancer at a late stage due to fear of being isolated from their loved ones or due to the mere fact of being unaware of screening procedures," said Dr Ng, who is also a consultant medical oncologist. "Thus, the workshop and the lec­tures were especially designed to dispel fear of the disease and to instil the practice of early detection and prevention of breast cancer," she added. Workshop participants received a workbook comprising information from the lectures and workshops as well as door gifts from sponsors.