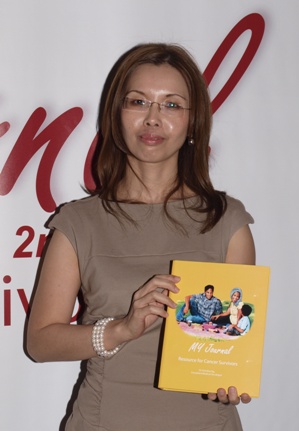 Dr Christina Ng with her book "My Journal".
When doctors told someone that the person had contracted cancer, the news came without prior warning. Instead it brought about an overwhelming spectrum of emotions to the patient.
To make matters worse, some patients do not have adequate access to crucial information and support, making them to feel helpless in their battle against the dreaded disease.
The road to recovery could be long and rough, however many had successfully won the battle and are now living well and healthy.
This was what had inspired consultant oncologist, Dr Christina Ng to come out with the book 'My Journal' in her effort to help patients take some measure of control in their long journey to recover from cancer.
The book is a personalised resource for cancer victims.
Dr Ng, who is also the founder and president of EMPOWERED The Cancer Advocacy Society of Malaysia said experience has shown that patients are empowered with hope when they are adequately informed about their disease and are given the opportunity to discuss their treatment options.
RESOURCE FOR CANCER PATIENTS
'My Journal' is a nationwide community service project that serves as a resource for cancer patients and survivors to inform and empower them through their journey battling cancer.
The idea for the book came about when Dr Ng was still serving in the public sector.
She said many patients were poorly informed about the disease, hence they had many misconceptions due to the lack of information.
"I realised that many patients were poorly informed about their condition, causing unnecessary fear," she said at the launch of the second edition of 'My Journal' here.
"It was then that I received the inspiration to put together 'My Journal' to serve as reference and guide to help cancer patients to better understand their condition and the rigours of treatment enabling them to be better prepared for the days ahead," explained Dr Ng.
Based on feedback from patients who were using the book's first edition that was launched in 2007, key revisions and improvisations have been made to the book in order to make it more informative and practical to its users.
The second edition of My Journal was launched by Deputy Minister of Health, Datuk Rosnah Abdul Rashid Shirlin recently.
SECOND EDITION
'My Journal' offers information on the types of diagnostic tests one may undergo, explains the types of treatment for cancer as well as counsels the user on the various impact cancer treatments may have such as effects on the patient's personal and family life.
The second edition contains worksheets to help cancer survivors organise their treatment diary, keep the date of their doctor's appointments and maintain a list of prescribed medication.
What sets 'My Journal' apart from other similar books even further is its personalised nature. The second edition comes in the form of a Filofax, allowing patients to file their medical examination reports or articles that have been an inspiration to them.
There is also a personal jottings section where they can indulge in cathartic journal writing activity.
With the launch of the second edition, all this information is now available in four languages - English, Bahasa Malaysia, Mandarin and Tamil, making 'My Journal' more accessible to everyone regardless of their background.
NOT A DEATH SENTENCE
"Cancer is a physically and emotionally draining disease. Facing a cancer diagnosis can be devastating. A patient may experience intense emotions ranging from the initial shock to fear, sadness and anger," Dr Ng said.
But, cancer is not a death sentence.
"There is hope and life beyond cancer. 'My Journal' empowers patients to think beyond this disease so that they can look forward to their recovery after treatment," said Dr Ng.
"Often, patients battling cancer find it difficult to relate their experience to family and friends and may be withdrawn as they struggle to cope with the realities of surviving the disease.
"Having the right information and support is crucial at this time as patients need to gain clarity and mentally prepare themselves for the journey to recovery," she said.
Colorectal cancer survivor and user of 'My Journal', Phong KT who shared his personal experience at the launch said battling cancer was frightening.
"When you do not know what you are up against or how to fight it, you are bound to be overwhelmed with fear. I was fortunate enough to be introduced to 'My Journal', which proved to be a valuable source of knowledge and comfort to me," he said.
Phong said having the right mindset is the most important and vital part towards recovery.
"If you can make up your mind that you can get better, you are 50 percent there. Your doctors and family provides you with the bullets, you have to go to the battlefield," he added.
ACCESS MISSION
Selected public hospitals with oncology units will receive 4,000 copies of 'My Journal' 2nd Edition to further fulfill EMPOWERED's access mission.
My Journal 2nd Edition sells at RM$30 a copy and will be available for sale at four participating hospitals - Pantai Hospital Kuala Lumpur, Sunway Medical Centre Petaling Jaya, Sabah Medical Centre and LohGuanLye Specialists Centre Penang.
Those who are interested for more information can also visit www.empowered.org.my.