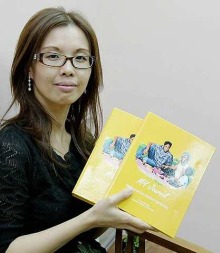 "Helpful: Dr Ng showing 'My Journal' - a resource for cancer survivors.
WHEN Dr Christina Ng received her medical degree from the University of Melbourne, Australia, she knew she wanted to specialise in oncology, a study of medicine that deals with cancer.
"It was something I had always wanted to do. The sudden diagnosis of cancer can be very devastating and often comes as a huge shock to people. They may experience anger, loneliness and even hopelessness. The journey of treatment to regain your health over weeks and months can be challenging. However, many have successfully undergone treatment and are now living full and satisfying lives," said Dr Ng.
"Experience has shown that patients are empowered with hope when they are adequately informed about their disease and are given the opportunity to discuss their treatment options," she added.
She came up with My Journal — a resource for cancer survivors, which is designed to help people take control in their journey through cancer and hopefully alleviate their fears and any misconceptions which they have about cancer and treatments.
The inception of My Journal, a resource supported by EMPOWERED The Cancer Advocacy Society of Malaysia, is a unique resource which is just one of the many projects undertaken by EMPOWERED.
The first edition of My Journal was launched in 2007 as a pilot project.
"We received a lot of positive feedback from users. Many of them also provided constructive criticism on how we should improve My Journal.
"Thus, the second version which was launched in February this year took a bit of effort. It comes in the form of a filofax where patients can document and organise their treatment schedules.
"The new edition is also more accessible to the public, regardless of race, as it comes in English, Malay, Tamil and Chinese," said Dr Ng.
She is the EMPOWERED founder and president. The journal also features information on medical tests, treatments, side-effects and the disease's impact on survivors' personal and family life.
It has additional cancer information and worksheets to help survivors keep their doctor's appointments and maintain a list of prescribed medication. Patients can file their medical examination reports or articles that have been an inspiration to them.
Dr Ng said 4,000 copies of the second edition of My Journal were donated to selected government hospitals with Cancer Care units.
"They can also be purchased online at www.empowered.org. my for RM30 a copy and all proceeds go back to charity to help the less fortunate cancer survivors get a copy of the book."
The proceeds from the sale will be used to produce more such books to ensure continuity in donations to the selected government hospitals.
Dr Ng added that some of the tips in My Journal are not always snared by the doctors.
"This is because of time constraints. The doctor has multiple patients to see at a time so My Journal is an avenue for patients to seek the important information they need in dealing with cancer. I am still very open to suggestions on possible spin-off ideas," she said.
One of her ideas for a third project is to come up with general cancer resource book to educate patients on the different types of cancers.
Those interested in getting a copy of My Journal can e-mail officeadmin@empowered.org.my or call Leong on 012-215 3182.