New Straits Times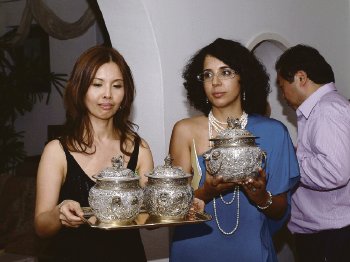 Dr Christina Ng (left) and Tracy Ann with the antique silver 'kamcheng' up for for auction.
KUALA LUMPUR: Cancer advocacy society Empowered, in collaboration with the Italian Embassy, recently hosted a charity dinner cum auction.
Held at the Italian Ambassador's residence, the event's objective was to save lives, prevent cancer and serve the oor afflicted with cancer in Malaysia.
Over 20 items went under the hammer to raise RM110,000.
Among the items auctioned off were antique hairpins, Myanmar jade, antique silver "kamcheng", a silver belt and flora silk painting.
Empowered founder Dr Christina Ng said the money would be used to fund the society's second colon cancer screening campaign.
"Colon cancer is the most common cancer in men and the third most common cancer in women in Malaysia.
"Unfortunately the cause of colon cancer is yet unknown. However, it is possible to detect the disease early, which increases the patient's chance at a successful recovery, " said Ng.
The screening will educate the people on the ways of preventing the cancer.
"In our campaigns, we usually work closely with the local community leaders to ensure that our outreach methods are socially and culturally acceptable, " said Ng.
Empowered is a non-profit, non-governmental organisation registered as a society. It was launched by the Health Ministry in April 2009.