Antique Hair Pin (Small)
Straits Chinese Hair pins in silver with intricate details,
late 19th century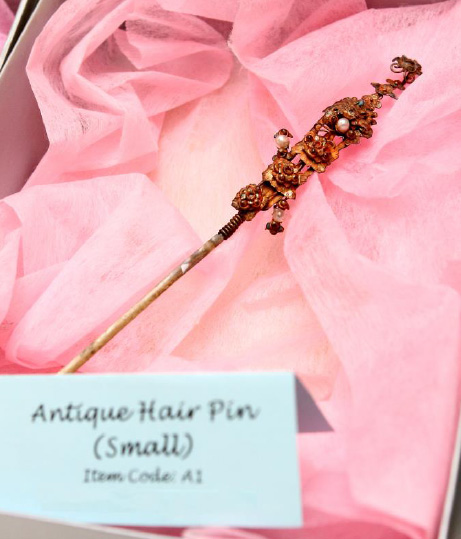 Antique Hair Pin (big)
Straits Chinese Hair pins in silver with intricate details,
late 19th century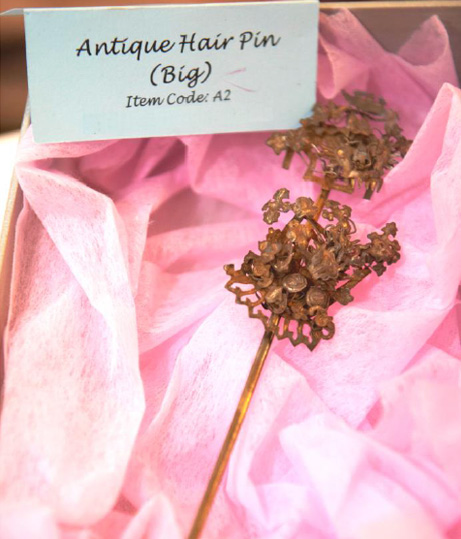 Antique Silver Belt (big)
Intricately hand-crafted antique Straits Chinese
Silver Belt, circa 1850
Silver Belt (small)
Malacca Silver Belt with seven loops.
Circa 1875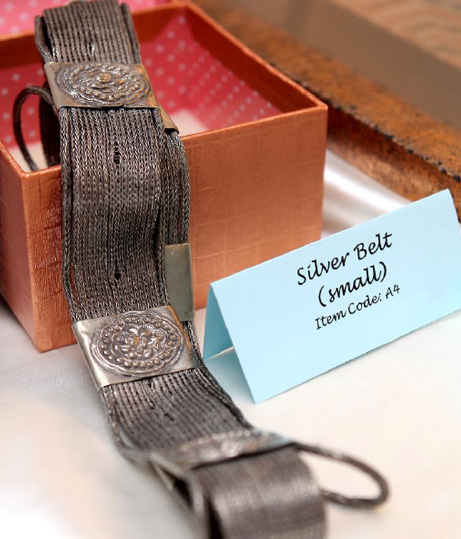 Silver Bolster-ends
A set of 2 pieces
Straits Chinese Silver Bolster ends.
Sewn on bolsters which were mainly used for
elaborate weddings as a decoration.
Circa 1900.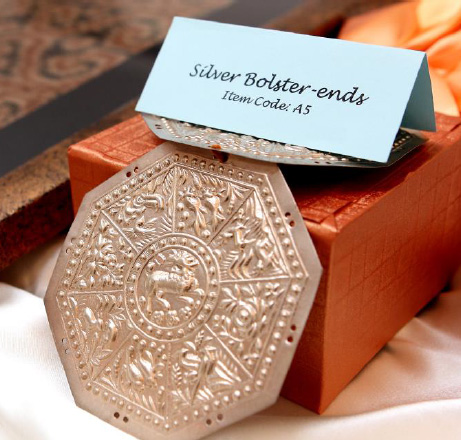 Modesty leaf Caping
Silver modesty leaf (in the shape of a betel leaf) for infant girls of wealthy families.
The Caping originated from India.
It became widely used in Peninsular Malaya and other countries of South East Asia.
19th century.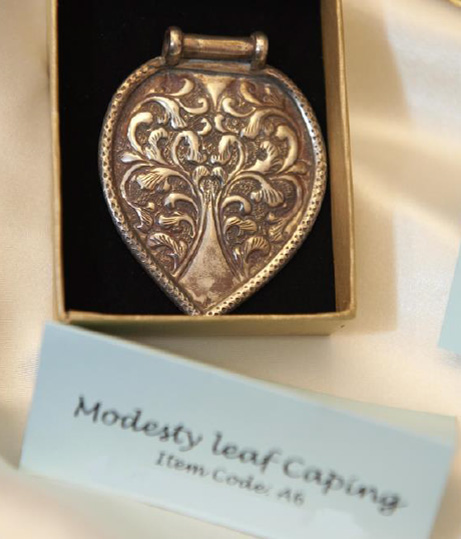 Antique Exquisite Beadwork
Early 19th century.
Originally used for Straits Chinese beaded slippers,
also known as kasot manek.
They were made with very fine French glass beads.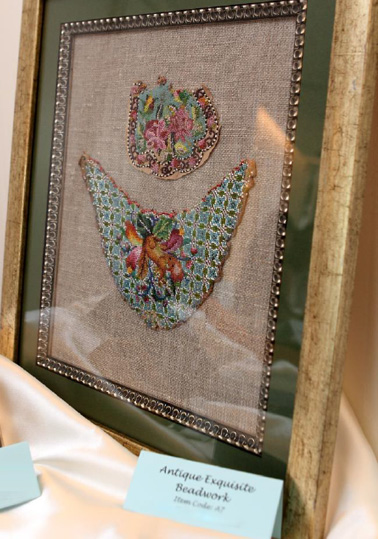 Twin Chinese Marble Seal
The role of seals in Chinese culture can
hardly be overestimated.
For the last 3000 years, they have been used in official and private documents, some even in magic spheres.
Late 19th century - From Southern China.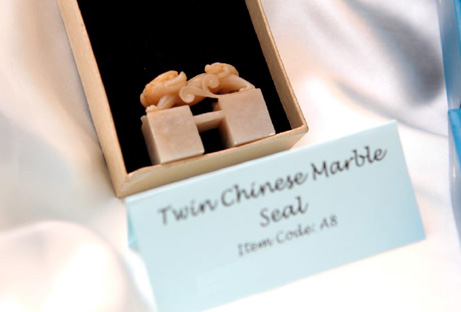 Pua Kumbu – Iban Hand-woven
Traditional Cloth
Sponsor: Unika Borneo
'Bidang' or skirt worn by the Iban tribe of Borneo.
The material is hand woven and the colouring is made of natural tree bark and root dye.
Circa 1920.
Luxury Fragrance
Annick Goutal Nuit Etoilee Butterfly
Sponsor: Esplanade Avenue Sdn. Bhd. (Annick Goutal)
** Last blue bottle with golden stars in Malaysia!!! **
The Nuit Etoilee [pronounced: NEWEE AY-TWA-LAY] Butterfly collection is a 2012 creation of perfumers Camille Goutal and Isabelle Doyen. This unisex perfume radiates a Fresh &Woody scent. The butterfly bottle is the emblematic bottle of the House. The top represents two butterflies kissing: love is always presented in every single detail of the House's creations.
The hand-blown glass bottle is made in a pot furnace requiring three people for just one piece. The butterflies on the top are hand-brushed with 18 carat gold. The bottle is tied by hand with a gold thread and is showcased in an extraordinary and luxurious jewel-gift set, accompanied by a funnel and atomiser bulb for a noble "High Perfumery" application.
Credits: annickgoutal.com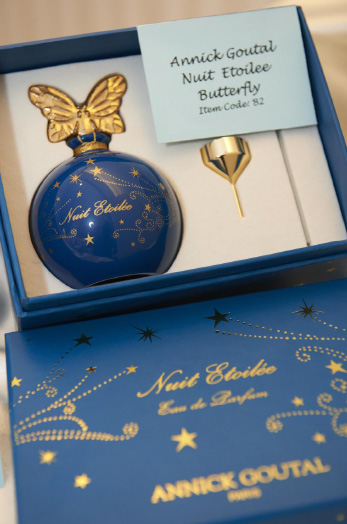 Luxury Carpets
Hand-knotted Tribal Baluch Carpet
(with certification & Nasim carpets casing bag)
Sponsor: Nasim Carpets
Baluch rugs (smaller pieces of carpets) are tribal, hand-woven in Afghanistan & Iran by nomadic Baluchi tribes and take months to complete. The majority of them are made in the province Sistan and Baluchistan, the extreme south east border. The Baluchis' migratory lifestyle is largely unaffected by civilization as we know it, and yet they produce these elegant pieces of unsurpassed charm and good taste. Baluchi weavers use the asymmetrical Persian knot almost exclusively which tend to be small and tightly packed, giving great durability. Natural vegetable dyes are used.
Size: 3'6" x 5'6"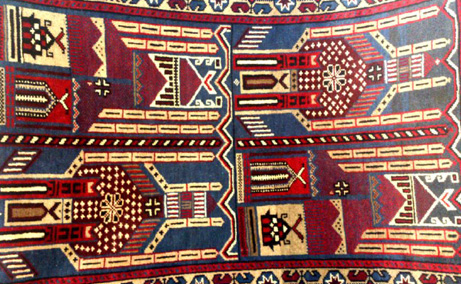 Credits: Nasim Carpets
Hand-knotted Caucasian Turkoman Carpet
(with certification & Abee Rugs casing bag)
Sponsor: Abee Rugs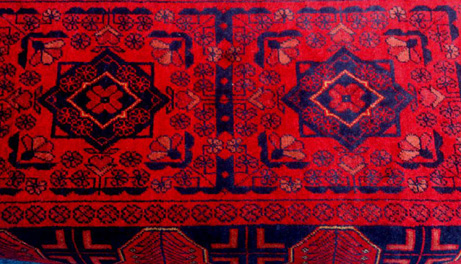 Design: Red Turkoman Wool & Wool
Size: 2.5' X 4'
This beautiful and very rare work of art is depicting the famous Caucasian Turkoman motif. Turkoman rugs are produced by nomadic weavers from Turkmenistan, Uzbekistan, Afghanistan & North-east Iranian tribes.
Credits: Abee Rugs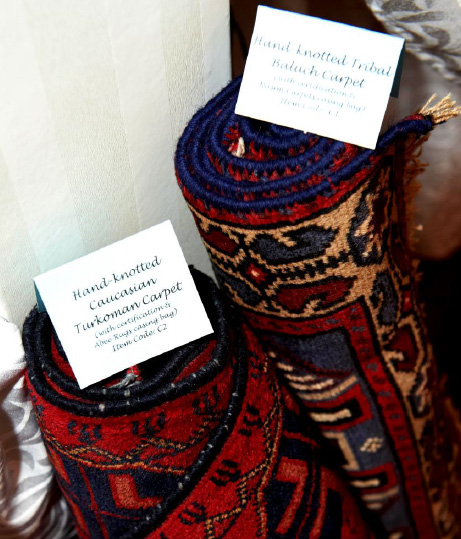 Luxury Home Decoration
Isthmus Vase + School of Hard Knocks Vouchers (10 pcs)
Sponsor: Royal Selangor International
Decorative home accessories with an exuberant foliate motif, this charming vase carries the design that symbolizes the fusion of different cultures where decorative elements from the East and West meet.
From the School of Hard Knocks, participants learn how an enterprising young man from China practised his craft, laying the foundation of what has become Royal Selangor. During this 30 minutes fun-filled session, an experienced instructor will teach participants how to create your own pewter dish using traditional tools (hammer, mallet and wooden mould) just as it was done by pewter smiths more than a hundred years ago! Participants get to keep the finished dish and will be presented with a personalised certificate for their one-off masterpiece.
Credits: royalselangor.com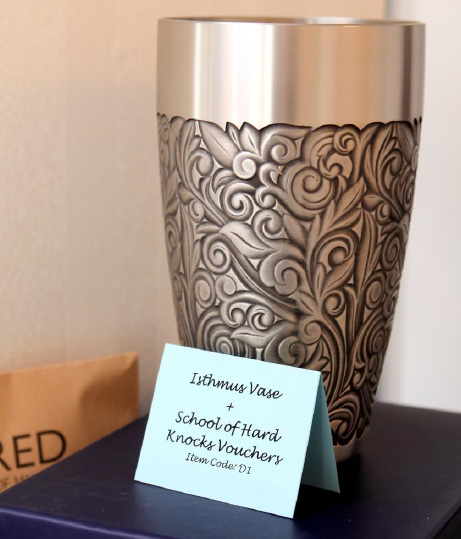 Luxury Gift Certificates
Cuffz Gift Certificates
Sponsor: Cuffz Sdn. Bhd.
Conceptualised in the heart of London, Cuffz boasts the biggest collection of cufflinks in the world ranging from their novelty range right up to their limited edition pieces, which consists of only one cufflink pair per design, handcrafted from the finest precious stones and metals. Other than cufflinks, Cuffz is home to a wide variety of apparels.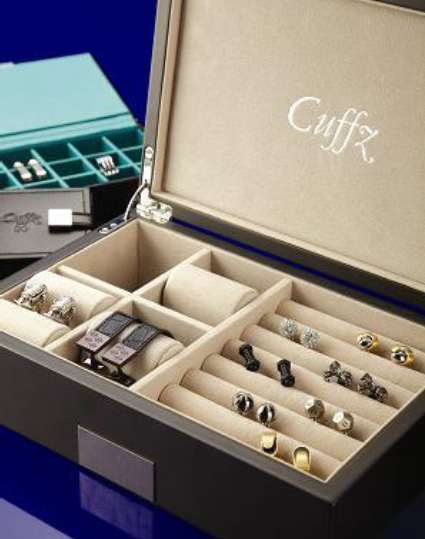 Credits: cuffz.com
Spa Packages
E-light Facial Treatment & Underarm Hair Remover
with Alinen equipments from UK
Sponsor: 3S Beauty & Make Up
Located in the hustle bustle of Desa Sri Hartamas, 3s Beauty & Make-up Centre provides threading treatments utilising Alinen UK products in a clean, cosy and relaxing atmosphere.
Alinen United Kingdom is founded by Vincience, an industry-renowned leader in skin research and biofunctional active ingredient development. Alinen products are developed and testified through a comprehensive process, holistic yet avant-grade.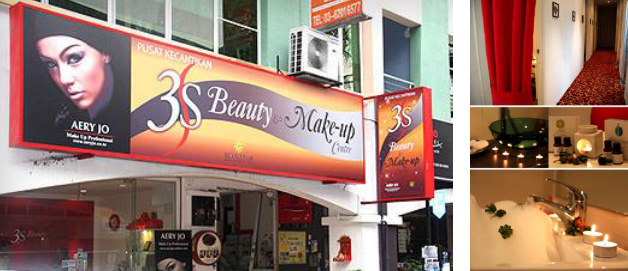 Credits: 3S Beauty & Make Up & alinen-life.com
Holiday Packages
Sponsor: Hospitality Asia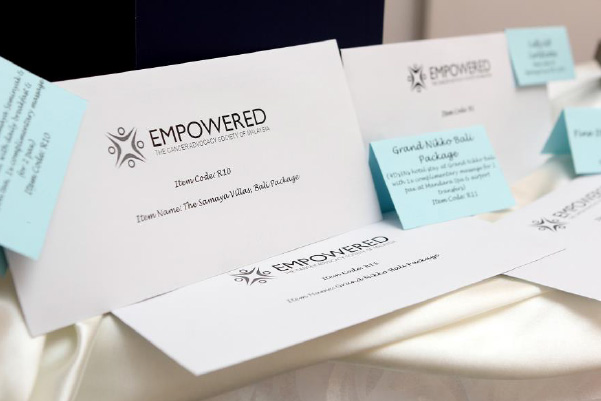 Marriott Putrajaya Package
(2Ds1N hotel stay with dinner & breakfast)
This breathtaking hotel, boasting a 27-hole international championship golf course, offers unparalleled luxury and convenient access to lively Kuala Lumpur. The hotel is located just 20 kilometers from the city and 45 kilometers from the international airport.
The hotel's delightful onsite restaurants include Midori Restaurant, serving Japanese food, and the Italian Tuscany Restaurant & Pizza Bar. Other than golf, guests can enjoy the outdoor swimming pool and hotel spa, and Port Dickson Beach is only 30 kilometers away.

Credits: marriottputrajaya.com
Prince Hotel Package
(3Ds2Ns hotel stay with breakfast)
Prince Hotel & Residence Kuala Lumpur is a luxury international 5 star hotel located in the heart of Kuala Lumpur. Mere minutes from the city's corporate hub, shopping, dining and entertainment districts of the city, the hotel is ideal for both business and leisure travellers alike, while promising luxury and comfort around every corner.
This 5 star international hotel includes the following facilities & services such as an outdoor swimming pool, tropical garden, fitness centre, spa, children's play area and a fine selection of international cuisines available at our hotel restaurants.

Credits: princehotelkl.com
Berjaya Times Square Hotel Package
(3Ds2Ns hotel stay with breakfast)
A tower of zest and charm, this hotel is centrally located in the heart of the business and shopping district of Kuala Lumpur. Housed within the Berjaya Times Square's shopping mall, accessibility is the key trait with monorails directly connecting all strategic locations in town right to its doorstep. Well-appointed where every detail is vigilantly crafted to a fine balance, it is no wonder this hotel is touted the preferred destination for business and leisure.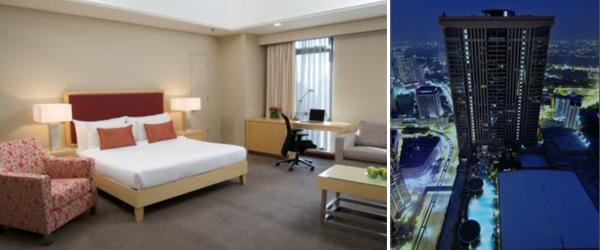 Credits: berjayahotel.com
Berjaya Tioman Resort Package
(3Ds2Ns hotel stay with breakfast)
Tioman is an island befitting the stars. Whether you seek relaxation or adrenaline, we've got you covered. With miles of secluded palm-fringed beaches, clear turquoise waters, abundant marine life, misty mountains and lush greenery, savour each moment as you indulge in one of the world's most beautiful islands where 'Bali Hai' was filmed in the Hollywood classic 'South Pacific', in addition to the recent Hong Kong TV Series 'The Ultimate Goal'. Established as the island's only international-standard resort, each room in the 268-room resort offers the option view of the sea, hills, gardens or rainforests. Featuring adequate room space to enjoy a relaxing moment, the chalets are air-conditioned and fully equipped with modern amenities.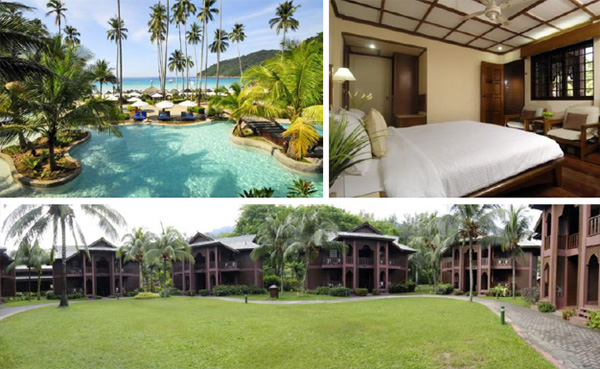 Credits: berjayahotel.com
Berjaya Langkawi Resort Package
(3Ds2Ns hotel stay with breakfast)
Home to Unesco's World GeoPark, discover the island said to have inspired love and miracles. Cocooned within a rainforest sanctuary, Berjaya Langkawi Resort embraces boundless views of emerald sea and lush green mountains. With an array of convention facilities and spa treatments complemented with warm hospitality, your retreat will be filled with success happiness and memorable moments. Berjaya Langkawi Resort spans 70 acres with chalets set amidst the lush tropical rainforest and over the beautiful waters of the Andaman Sea. Enveloped by nature's wonder with spectacular views over the Burau Bay, your stay will be relaxing, interesting, enjoyable and most importantly memorable. Located within the lush rainforest with view of the jungle, the rainforest chalet is a newly refurbished unit that comes in a fresh new look, combining a rustic Malay architecture with a modern touch.

Credits: berjayahotel.com
G Tower, Kuala Lumpur Package
(3Ds2Ns hotel stay with breakfast)
GTower Hotel converges style, form and function; the essential elements of what make a business trip successful.
Emphasising personalised service experience, Les Clefs d'Or Concierge, world-class business amenities and high speed connectivity, the hotel also is the first fully certified 'Green Hotel' in Malaysia. Located within the KLCC & embassy precincts, GTower Hotel is fast becoming an iconic hospitality experience for the discerning business traveller.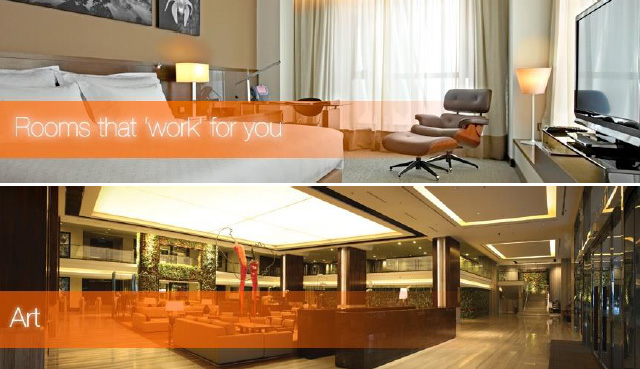 Credits: gtowerhotel.com
The Samaya Villas, Bali Package
(3Ds2Ns hotel stay at Samaya Seminyak & Samaya Ubud, with daily breakfast & afternoon tea, 1x complimentary massage for 2 pax)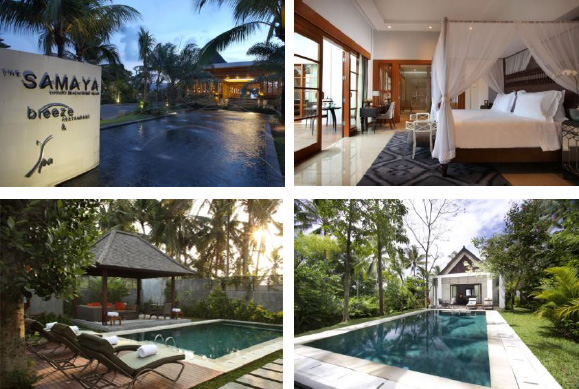 To many regular travellers to this region, Bali is synonymous with paradise, where one comes to find peace, tranquility and relaxation whilst experiencing its cultural traditions. Here at the The Samaya Bali we offer our guests the opportunity to experience all of these expectations and more during your visit. Staying with us, you have the option of not one, but two beautiful locations; either the hip location in Seminyak or a tropical indulgence on the Ayung River in Ubud, the choice is there for you. We pride ourselves on providing unrivalled Balinese hospitality with a dining experience to match, and our 'we are here to serve' attitude will provide you with the stay you are looking for.
Credits: thesamayabali.com
Grand Nikko Bali Package
(4Ds3Ns hotel stay at Grand Nikko Bali with 1x complimentary massage for 2 pax at Mandara Spa & airport transfers)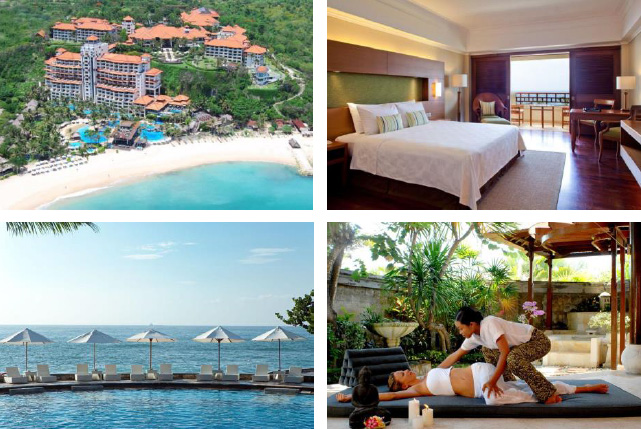 Experience a world of personal hospitality at the Grand Nikko Bali in Nusa Dua. This 5-star resort hotel offers stunning views of the Indian Ocean from its position on top of a 40-metre cliff. Traditional Balinese warmth combined with attentive and refined service makes it an ideal choice for a serene getaway.
Enjoy Harmony, enjoy a delightful package that will leave you looking refreshed and radiant. Aromatherapy Floral Footbath ~ Lavender Body Wash ~Choice of Traditional Body Scrub ~ Aromatherapy Floral Bath ~Balinese Massage or Pure Nature Facial.
Credits: grandnikkobali.com
Fine Italian Dining at La Scala
Sponsor: La Scala

**La Scala bringing the real taste of Italy to Malaysia**
La Scala is the place for an unforgettable food and wine experience. This new upscale exceptional restaurant offer indoor/outdoor (alfresco) cool and stylish ambience.
With a culinary team of chefs who have come directly from Italy, guests are guaranteed an impeccable dining experience with exquisite and artistic presentation in an opulent setting. The delectable menu is a culmination of the finest in ingredients imported straight from Italy. Designed by Chef Lucio Russo behind the seasonal menu, whether the guest craves creative Italian cooking or traditional food-of-the-regions, La Scala can offer a meal to satisfy most sophisticate palates. La Scala can offer over 200 choices among 2,000 bottles with a primary focus on Italy.
Location: 183, Jalan Mayang (off Jalan Yap Kwan Seng) 50450 KL
La Scala (Italian Fine Dining) Package (Dinner for 4 persons)
- no minimum spending required; - present voucher during order; - not valid with other promotions, discounts or vouchers; - not valid on eve or actual day for public holidays or special occasions; - only one voucher may be use per visit per table per bil; - not replaceable, exchangeable nor refundable in part or whole, no claims will be entertained; - voucher must be in good condition.
Credits: La Scala
Poh Kong Jadeite Piece
Sponsor: Poh Kong Holdings Berhad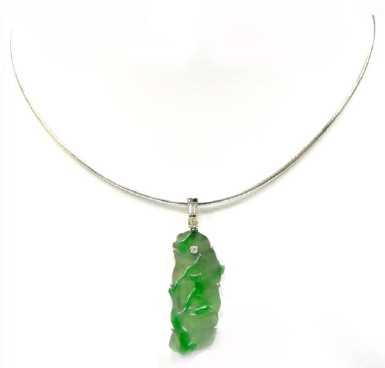 * Set of 18K white gold chain with quality jade & diamond pendant
* immaculate craftsmanship
* distinctive quality
* intrinsic beauty and splendour of the jadeite
* sparkling diamonds that complement
* enhances the look and style of the wearer
Credits: Poh Kong Holdings Berhad
Jacob & Co Timepiece
Sponsor: Poh Kong Holdings Berhad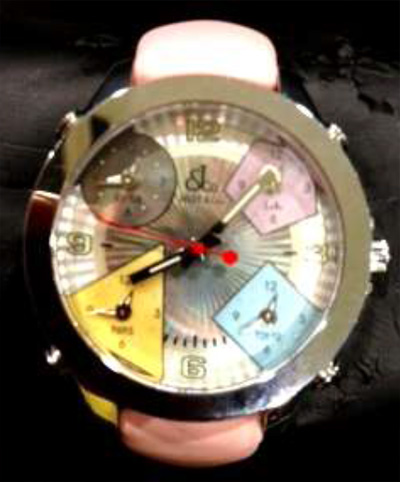 * 5 Time Zones – Local, LA, NY, Paris, Tokyo
* MOTHER OF PEARL dial
* Silver accents colour time zone
* Fitted with Jacob & Co Pastel Pink polyurethane strap
* 3 new spare polyurethane strap (pastel yellow, blue & green)
* Furnished in an original Jacob & Co display box
Credits: jacobandco.com
Elegance Club Exquisite Earrings
Sponsor: Elegance Club Holdings Sdn. Bhd.
*Total carat weight of the 70 pave diamonds
and 8 dazzling solitaire diamonds : 1.26 carat
*18K white gold content : 7.65 grams
* 8 pieces of jade with imperial green & 4 pieces jade with high luminosity
* artistic expressions designed to evoke eternity and continuity of stylish living
Credits: Elegance Club Holdings Sdn. Bhd.